About app
Pick a partner you like
Choose from thousands of people around the world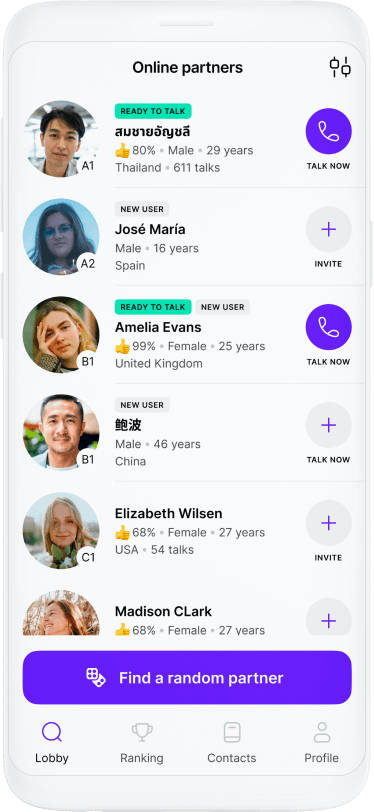 Or let random search do the job
Improve your English with new people every day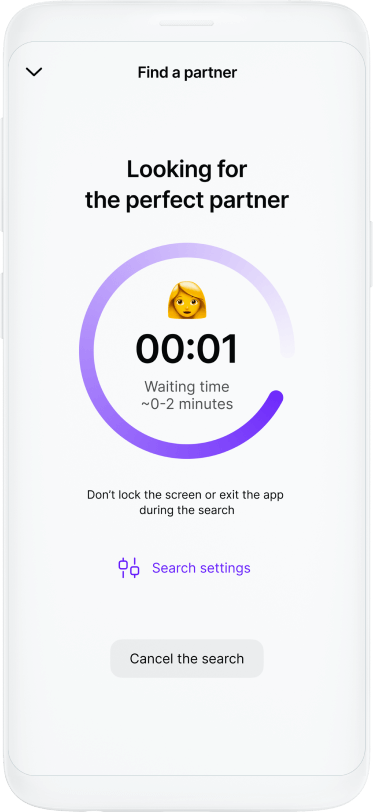 All partners match your level
It's your choice what English levels suite you best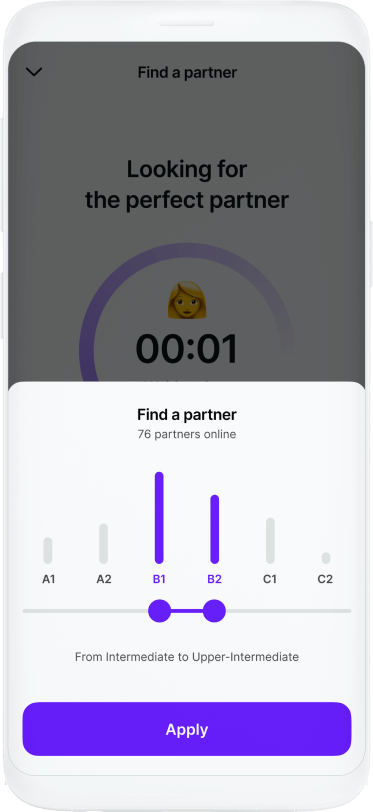 All talks are free
No time limit, no ads, no charges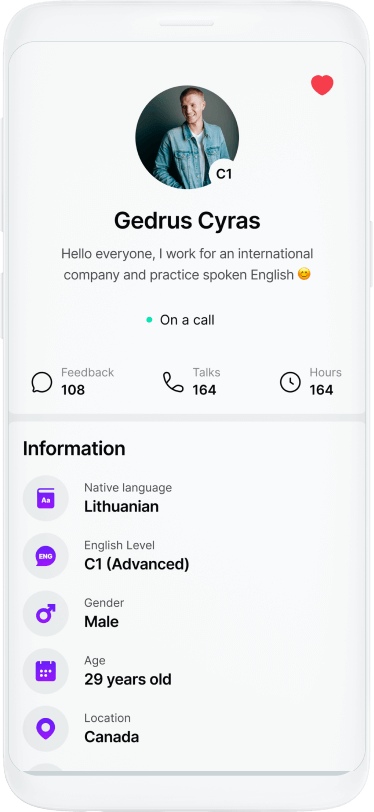 FAQ
The app develops speaking and listening skills. You will meet people from different countries with different accents, backgrounds, and interests. It will help you to learn how to speak on different topics and understand people from different parts of our world.
The mobile app is available for both platforms.
We recommend the app for users who have English proficiency levels B1, B2, C1, and C2.
You can determine your language proficiency level by reading the level descriptions that you will see during registration, and if you find it hard, you can use the following online test.
You should not point out grammatical errors and other inaccuracies to you conversational partner, unless they specifically asked for it. Your task is to work on your own mistakes and improve your spoken language.
Yes, it is helpful. It takes a lot of practice to become fluent. Everyone can make mistakes, but this should not be an obstacle to improving your skills. As you immerse yourself in the language, you will inevitably get better, and you will be able to notice and correct more and more complex mistakes in your speech.
In addition to conversing with other language learners like yourself, you need to communicate with more experienced learners, as well as regularly study materials in the native language – books, audio and video materials.
You should thank them for the conversation and say goodbye. If you don't want to have a conversation with them anymore, block them using the block button in their profile.
Use the user report button. You can also block this user so that you no longer get matched with them. Both buttons can be found at the bottom of the user profile.
The main setting lets you select the language proficiency level range of your conversational partners. By default, this setting matches your level, plus one level up and one level down. There are two ways to find a partner: through random matching and by checking out the list of online users. The language level setting works the same way for both of these methods.
Ask them to speak louder. If they speak unintelligibly, ask them to speak more slowly. Ask if they can use a headset (headphones). If your partner has a lot of background noise, ask them to move to a quieter place.
The user's rating is based on the number of conversational partners who gave this person a positive rating. It means, the more people like you, the higher your rating is. Users with high ratings are more likely to receive invitations to chat.
Add your partner as a friend. You can do this both during the conversation and after it from the Contacts section. When they appear in the list of online users again, send them an invite. You can see which of your friends are online and available for conversation through the Friends tab located in the Contacts menu.
Join
Speak Pal
And practice spoken English